Asia Pacific Advertising Festival (AP AdFest)?
The Asia Pacific Advertising Festival, or 'AP AdFest', is an annual event consisting of four main activities, including an annual awards contest for Asia Pacific creative works; creative seminars led by leading industry practitioners, an exhibition of suppliers to the creative industry and a forum for advertising, creative, and marketing people in the region to meet and exchange views. It is endorsed by industry associations from Bangkok, Beijing, Jakarta, Mumbai, Seoul, Tokyo, Manila and Kuala Lumpur.
Held in March every year at world-class convention facilities in Pattaya, Thailand, AP Adfest is a three-day event that is primarily attended by Asia Pacific agency creative professionals, but also attracts production suppliers, agency account management and marketing professionals from leading advertisers. Now established as the pre-eminent regional festival in the region, it has five main aims:
1. To promote and recognize creative excellence in the region.
2. To raise awareness of the profusion of cultural values and heritages in the region and encourage the development of relevant and effective advertising.
3. To act as a forum for creative exchange and learning.
4. To provide a central resource for creative people.
5. To keep all expenses and costs low to encourage maximum participation.
The focus of the Asia Pacific Advertising Festival is the exposure and future development of creative expertise and experience in Asia Pacific. The region is steeped in history and rich in cultural diversity. AP AdFest aims to reflect this variety and to recognise the standard of work developed as the region's advertising industry matures and grows in confidence and international status.
AP AdFest processes and publicly displays more than 2,500 pieces of creative work entered for its Crystal Globe awards annually. Entries are judged on site, the week before the public event under the strictest secrecy and ethical guidelines. Creative directors and commercial producers, representing markets in the Asia Pacific region make up the panel.
The Crystal Globe Awards are open to all countries in Asia Pacific. Agencies and production houses are eligible to enter work. Awards are not given unless work is deemed to have reached the international standards set. There is only 1 Gold award given in each category but more than 1 award for Silver or Bronze can be given. The awards are respected as an accolade of creative excellence and are used to rank agency creativity by organizations and trade publications.
Confident Thais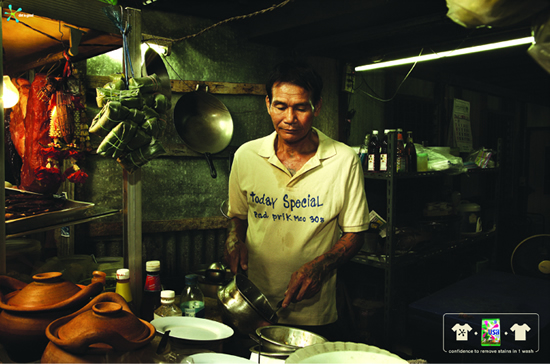 Eye Donation
Bicycle / Helmet / Jumper
Peace of party/Peace of construction /Peace of road
Chevrolet
Fish / Shirimp / Squid